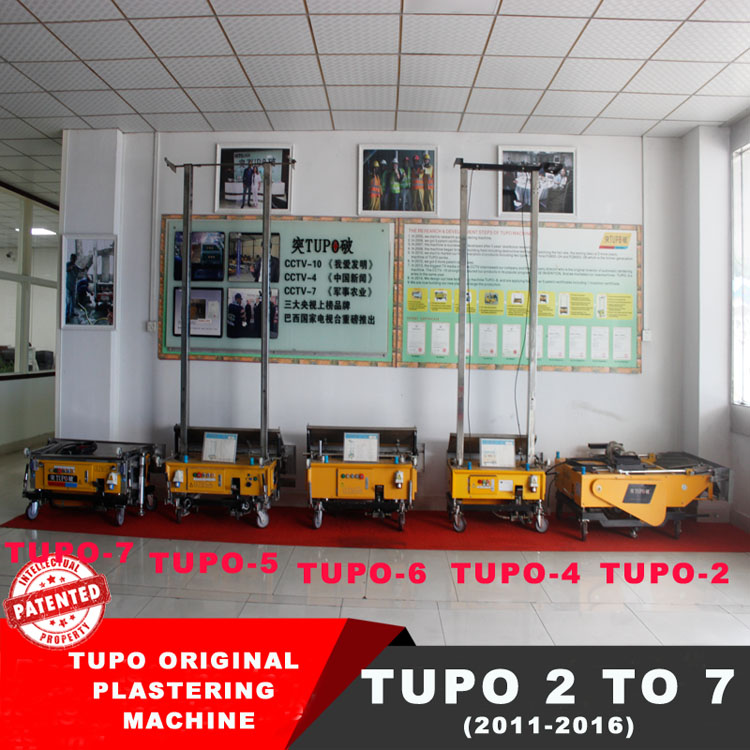 [TUPO-7 Plastering Machine] Product Description
2015 went into TUPO-7 plastering machine, which is the seven generation of TUPO plastering machines invented by Mr. Wang Jianhu. Combined the advantages of TUPO--5 & TUPO-6, operation is more easier and more convenient. Located by infrared ray. Better verticality. Operated by one worker, save more labor cost.
[TUPO-7 Plastering Machine] Technology
1. Product Name: TUPO-7
2. Band: TUPO
3. Put on sale: 2014
4. Inventor: Our president Mr. Wang Jianhu
5. Type: auto plastering machine
6. Rendering Height: Standard 3.5m, Special up to 4m
7. Rendering Thickness: 5mm-30mm
8. Dimension(L*W*H): 1000*650*550mm/ 1200*650*550mm
9. Power input: 0.75KW/380V/220V/50HZ/60HZ
10. Electricity phase: Single/Three
11. Length of Plastering Trowel: 1000mm/1200mm
12. Net weight: 140kg/150kg
13. Original: Foshan, Guangdong, China
[TUPO-7 Plastering Machine] Benefits & Features
1. Original gear rack drivering system, enalbe output of more peaceful and stable
2. Alluminium alloy main unit and stainless steel directional pipes
3. Located by infrared ray, even better verticality and flatness
4. Remote control
[TUPO-7 Plastering Machine] Drawback
1. Small poles, insufficient toughness, in 5-8 mm radian after plastering.
2. Cannot be folded, hard to throught the door and be removed.
3. Seriously affected by sunlight.